Celebrating + inspiring curiosity among Hoosiers of all ages
by providing exciting hands-on experiences with science
+
by promoting meaningful and direct exchanges with scientists
+
by highlighting scientific research and teaching at IU
Welcome to Science Fest!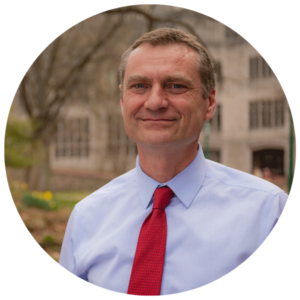 I'm delighted to invite you to join the IU College of Arts and Sciences for our sixth annual Science Fest. I've wanted to be a scientist ever since I was a little kid growing tiny crustaceans ("Ostracods") on my bedroom windowsill.
Now I'm fortunate to be surrounded by faculty, staff, and students who feel the same way. I've had the pleasure of volunteering in the Physics Open House for many years, and then for Science Fest when a number of different departments merged their efforts. We're looking forward to showing you how exiting and wondrous science can be.
Once again, the whole campus has pitched in, including some 20 departments as well as several schools, such as the Eskenazi School of Art, Architecture and Design and the School of Optometry.
As always, we've arranged all sorts of adventures and experiments on our beautiful wooded campus and in our labs, classrooms, observatories, and lecture halls. Many of our biggest hits are back, like mind-controlled race cars and a chemistry magic show. And we've got some new hits. For example, you've heard of microscopes, but what are macroscopes? IU's Cyberinfrastructure for Network Science Center will explain them as they show you how to map cities by smell, view the universe as a network, and watch hurricanes form.
We're really looking forward to your visit. Let the experimentation—and the fun—begin!
Sincerely,
Rick Van Kooten
Executive Dean
College of Arts + Sciences
Indiana University
Get ready to have fun with science!
We're excited to have you on campus with us exploring our labs, classrooms, observatories, and lecture halls. Visit our Activities page to explore all your options, arranged by location, time, and age group. Then you can create your own Science Fest schedule, so you can hit all the highlights.