Welcome to the 2022 Science Fest!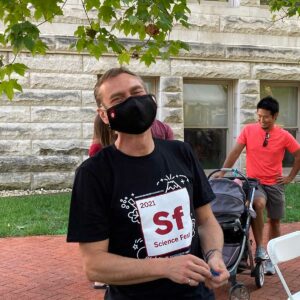 Hello! I am Rick Van Kooten, executive dean of The College of Arts and Sciences, and I'm delighted to welcome you to Science Fest 2022. I eagerly look forward to this event every year. In 2014 it took the shape of a multidisciplinary festival, and before that, when I was a professor in the Physics department, earlier iterations developed compelling science activities for young people. My own love of science began as a child, and that interest has carried me forward in fascinating ways.
Today, Science Fest has a reputation for being one of our most anticipated campus events, attracting thousands of children, educators, and parents to the university. It fosters joyful and meaningful learning, bringing youngsters together with faculty and graduate students around activities that sometimes make an indelible impression. (Rockets on the Launch Pad, anybody?) These activities are awe-inspiring, informative, and fun for everyone involved.
In visiting this website, you are taking your first step towards planning a thrilling day – from 9:00 am to 3:00 pm – on our beautiful campus. Free to the public, with free parking in campus parking garages, Science Fest plants the seeds of scientific discovery in youngsters in a wide range of fields: from Animal Behavior to Public Health, Mathematics, Anthropology, Material Sciences, Botany, Chemistry, Optometry, and many others. It showcases these and other fantastic departments in the College and beyond.
You'll find suggestions and supplemental materials that help you carry the learning forward, encouraging you to indeed "try this at home." And you'll be able to use virtual reality goggles, explore the mechanical puzzles of the Lilly Library, work with computers, or even make a comet at the Kirkwood Observatory!
Pick up a Passport at the Welcome Table, and then spend this special day trekking from the Physics Field (in front of Swain West) to the Astro Zone (by the Kirkwood Observatory), through Dunn Woods to The Circuit and the Bod Squad area (on the east side of the Old Crescent section of campus). More activities await in the Puzzle Patch and the Chem Trail, as well as in the Bio Zone in front of the Biology building. Study the map and look for signs and stickers directing you to each destination. Activities are identified by age group, from pre-K to high school, and you can check the time frame to plot your day.
At Science Fest we encourage curiosity and try to answer questions with facts that inspire even more questions. Sometimes our adult assumptions are jolted in a new direction by the energy and inquiry of young learners — the scientists of the future. Science Fest is known for setting long-term enthusiasms in motion, exposing kids to the many possibilities available when we flip the switch and the "light bulbs" of knowledge light up in our brains.
I hope you have a spectacular experience!


Rick Van Kooten
Executive Dean, College of Arts and Sciences \ Professor of Physics
Indiana University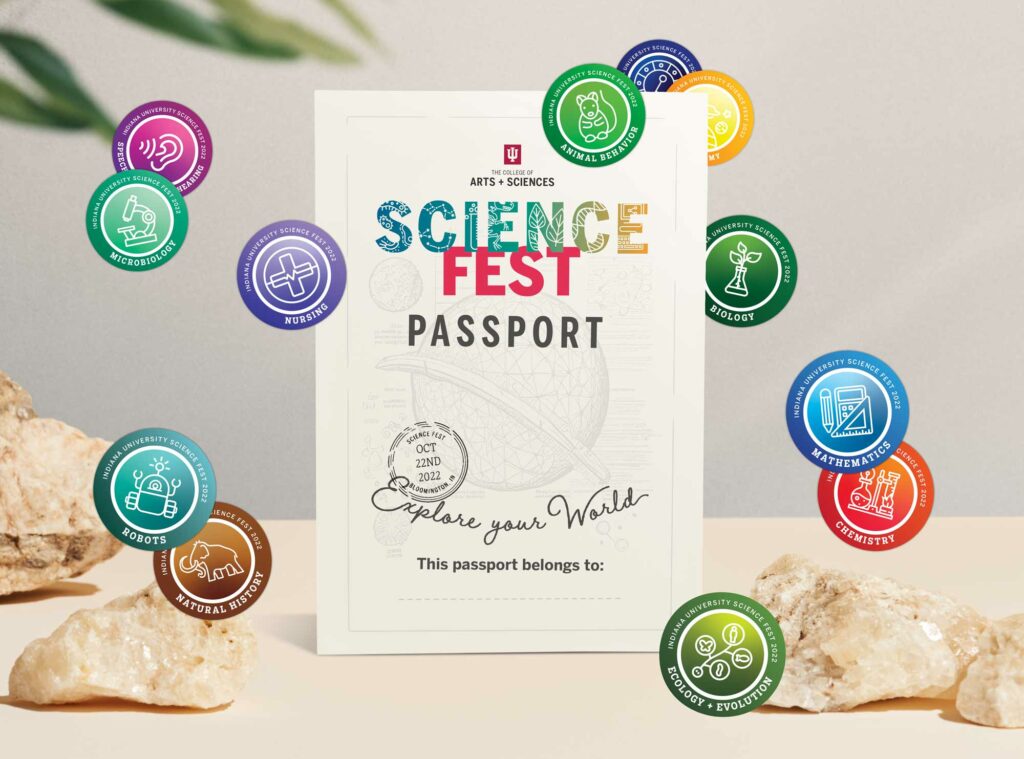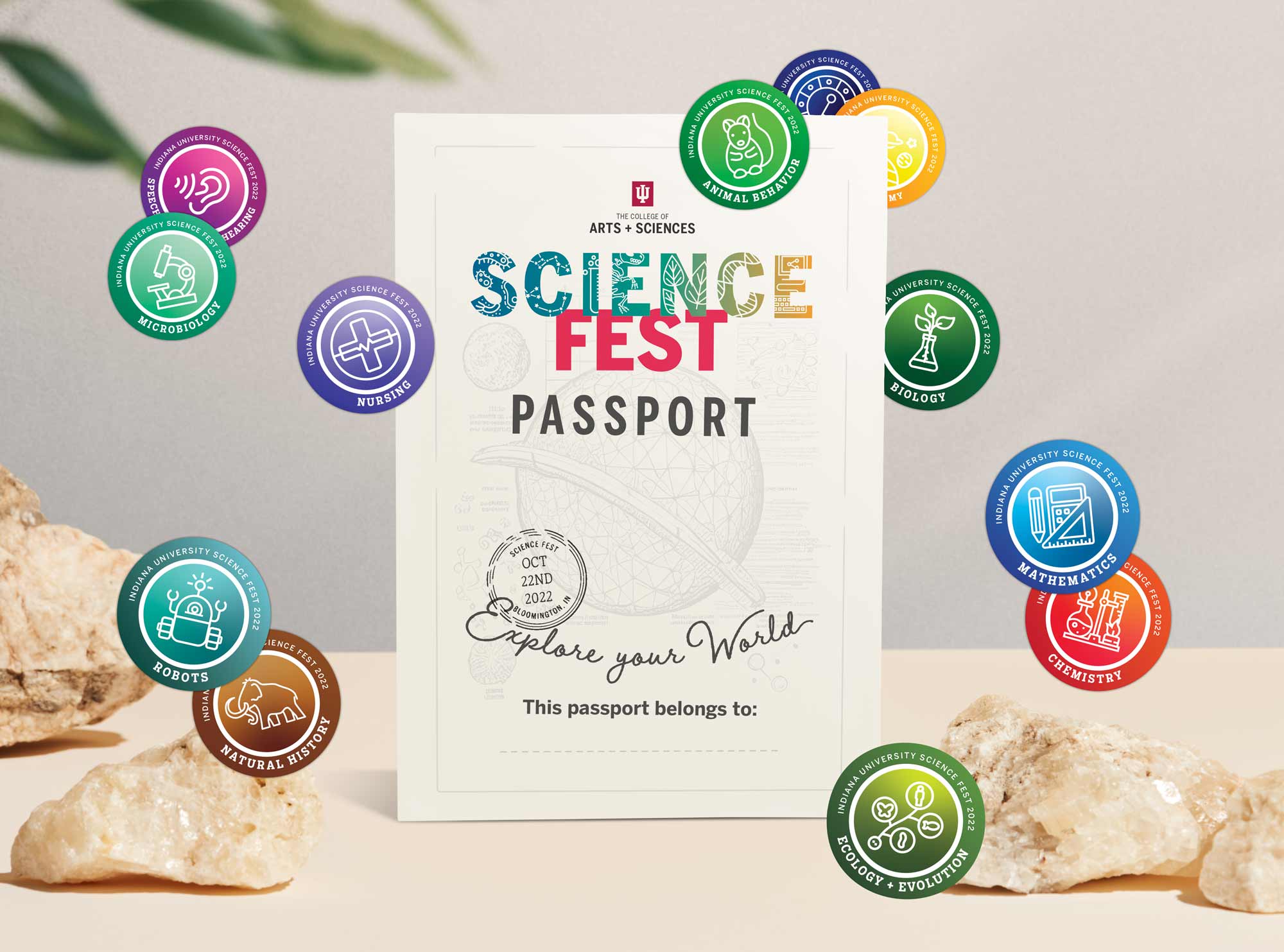 New in 2022
Science Fest Passport + Collectable Stickers
There are 24 passport stickers for you to collect at Science Fest, but you have to find them! Look for activity tents and tables with a sign that says PASSPORT STICKERS HERE! Present your passport to the people working at that activity and collect the sticker. There are a limited number of stickers, though, so find them before they run out!
Enter to Win a T-Shirt
After you collect at least 5 stickers, you can enter to win one of our awesome Science Fest t-shirts. Enter your contact information on the inside of your passport and bring it to one of our two Information tables. There is an Information table between the Chem Trail and the Puzzle Patch, and another one in the Earthly Realms area.
Can you collect them all?
Health + Safety
Let's keep on keeping ourselves safe at Science Fest! Masks are expected at all indoor activities this year.
Our scientists are working hard to bring lots of activities out for you this year. Some of them will held indoors and some will be outdoors so that we can spread out and give each other plenty of space. Bring your mask, bring your curiosity, sanitize your hands, and make room for others as you explore the wonders of Science Fest 2022!
And remember to have fun learning!